Chuck's Photo Album (2000 - 2004) (Click on a picture for a larger version)






Work Photo's 2000 > 2003:
(1) At my desk
(2) With a 30,000 lb. testing Machine.
(3) Burn testing a radioisotope transportation container.
(4) Sharon ( my daughter) programming a data acquisition recorder.


Loading the pressure vessel- in search of the illusive Bulk Modulus. June 2000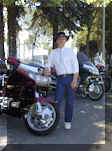 At the Rally (Wing Ding 2000)- Billings Montana, July 2000 <link to trip journal (PDF)>

Lake Crescent, Olympic Range WA. Jim took picture. August 2000

Rush hour in the Olympic Rain Forest- Sept 2000

"Spirit of Washington" dinner train. Renton WA. May 2001




Taking time out between performances, Shakespeare Festival, Ashland Oregon, June 2001

Olympia Washington July 2001 (Same pose back in 1967!)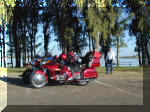 1- Jim at Yosemite Lake , Merced CA
2- Main Street- Snelling CA (Northeast of Merced), August 2001|
3- Jim and I, above Lake Tenaya - Yosemite National Park. August 2001
4- Jim and the bikes, at the Reno Hilton, Reno NV. August 2001

Los Angeles, Puerto Vallarta, Mazatlan, Cabo San Lucas. October 2001 <link to photo page>

Self portrait (with Laveta) "The James House" B&B, Port Townsend WA, April 2002

Brain Bucket <link to photo page>


California and Nevada- by car this time, with Jim & Carol, September 2002 <link to photo page>





Washington DC, October 2002:
(1) Laveta in front of the White House
(2) Looking up at the capital dome
(3) Einstein & Laveta, at the National Academy of Sciences
(4) Smithsonian Museum of Flight. The first plane to fly across the United States- nonstop, in 1923 .
[I knew the pilot, Col. John A. Macready who was my next-door neighbor in Merced California, 1957-1958]




The day before my meeting with the Nuclear Regulatory Commission at their Rockville, MD (White Flint-1) headquarters,
October, 2002. Laveta & I took the subway. I went again the the following morning (wearing a suit) for my presentation.

Laveta and the Alien. Museum of Glass, Tacoma, WA, October 2002




!-2 Autumn in Tacoma 3 - Laveta- Thanksgiving Dinner, 2002

Yes, even idols exhibit Male Pattern Baldness. Seymour Conservatory- Tacoma WA

Hawaii, Fanning Island Vacation 2003 < link to journal >

My 60th Birthday at work with Laveta, March 2003

Problems, Problems.... March 2003

An evening at Lake Quinault Lodge WA, April 2003 <link to photo page>


Bocci Ball: Useless Bay, Whidbey Island. Mike, Jason, Carol, Laveta, July 2003

"The Power of Two" - Tacoma Cemetery, October 2003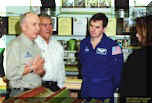 At work- with a visiting Space Shuttle astronaut

A Week In New Mexico, September 2003 <Limk to photo page>


"Pink Rigidity"
A very pink, Rigid Polyurethane foam.
Polymerized in mid-pour by our research chemist.
Christmas at work 2003


An afternoon at the Tacoma Symphony- Laveta & Carol, March 2004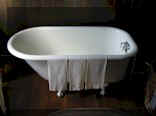 Our 40th Anniversary- at Fort Worden State Park < link to photo page >

Motoring around Scotland, May 2004 < link to photo page >






Seattle Laveta Me Benaroya's Grand Lobby
On July 15, 2004 Laveta, Sharon, Russ and I went to the Seattle Symphony in Benaroya Hall
to see The Lord of The Rings Symphony- Howard Shore conducting. After dinner at the
Pike Brewery, we walked through the Pike Place Market before the performance. Great evening!


Strange hair day- at work, July 2004

September 16th - October 2nd 2004
Berlin, Rome, Venice, Lake Garda,
Florence, Pisa. Trip Journal in PDF

Click (here) to return to menu page
.