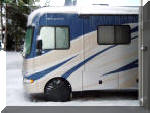 Our home in University Place... ten days before we left.
---
We left a cold and foggy University Place in Washington State around nine in the morning, heading south on I-5 for Seven Feathers RV park in Canyonville Oregon- where we arrived around 3:30 PM. When we pulled out of Canyonville the following morning, the weather at Siskiyou Summit (4310 feet, the highest elevation on Interstate-5) was around freezing with the possibility of light snow but things improved- so much so, that by the time we crossed the pass- the pavement was dry. Welcome to California!

We spent the night a Heritage RV about an hour south of Redding in the little town of Corning. The next day we continued down the San Joaquin Valley to Chowchilla (only 18 miles south of Laveta's relatives in Merced ). We also saw my youngest brother, who was there temporarily, inroute to Nevada for the winter.
A few weeks later in San Diego, our son-in-law, who was on his way to see his parents in New Mexico joined us for a couple of days. Finally- our friends Jim and Carol flew down to join us the last week of our stay in San Diego. Then the four of us drove home north along the coast- seeing seven of California's twenty one Missions before crossing Pacheco Pass into the San Joaquin Valley.

---
Our motorhome and Honda CRV towcar at The lakes RV & Golf Resort, Chowchilla CA.
This is a very nice, gated RV community. We spent two weeks here visiting relatives
and soaking up sunshine.
Castaic Lake RV Park located in the town of Castaic at the top of the Grapevine on I-5;
just the right location for beginning our Sunday morning drive through downtown LA to
San Diego. As you can see- it was a different kind of place... but hey- it was just for one night.
Mission Bay RV Resort, San Diego, where we spent the next 30 days. It was uncrowded,
as summertime is their busy season. Our motorhome was located about 100 feet from
beautiful public beach and from Mission Bay City Park whch ran along the waterfront
for miles. This was a great place for morning and evening walks.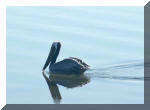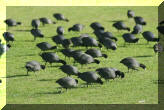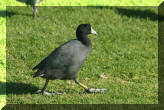 A Pelican and American Coots - with their funny feet.

| | |
| --- | --- |
| | Old Town San Diego. The Flagpole at left hoisted the first American flag over California. We later saw the first home the first first school etc. There were many museums and lots of shopping. On our second visit we took Jim and Carol with us. We ate breakfast at Fiesta de Reyes . |
Laveta and I took the opportunity to drive about 120 miles up I-15 to Ontario and see the apartment where we'd lived in 1964-1965. And yes things had changed. It was no longer a nice neighborhood and of course we were no longer young but the old apartment was still there...
and so were we. <1964 photo link>
Laveta in Legoland (Carlsbad CA)

Balboa Park: Natural History Museum & Conservatory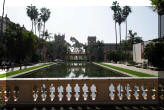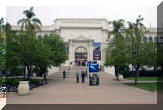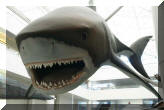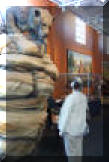 At the justly famous San Diego Zoo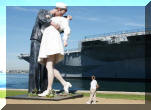 Statue Title: "Unconditional Surrender"
The aircraft carrier Midway (now a museum) and Bob Hope Memoral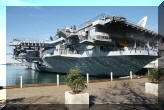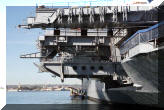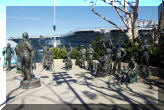 The Pier Cafe with Jim & Carol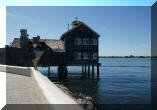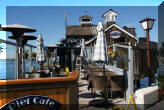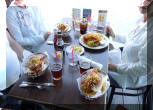 ---
And now for the missions- one of the goals of the trip. We visited 7 of the 21 missions.


Mission San Diego De Alcala (the first mission in California- located in San Diego)
Mission San Juan Capistrano (located in the town of the same name)
Mission San Luis Rey (located 5 miles east of Oceanside)

Mission San Buenaventura (located in Ventura 60 miles north of Los Angeles)

Mission Santa Barbara (In the City of Santa Barbara)

Mission San Luis Obispo De Tolosa (in city center San Luis Obispo)
Mission San Juan Bautista (located in the town of San Juan Bautista)

Click (here) to return to Home (Index Page)