1995
National Academy of Sciences-
National Research Counsel-
National Materials Advisory Board
These pictures were taken in 1995, at the National Academy of Sciences in Washington DC, where Al and I had been invited to participate in a conference for improving the fire resistance (fireworthiness) of materials used in commercial aircraft interiors.

The published proceedings are available online at he National Academies Press. See links at right. (I'm listed in the Toxicity session report.)

The last two photo's are of us attending the banquet in the "Great Hall" of the academy on the last night .


(

proc

eedings)

(session report)
Note the photo of one of the dome's four pendentives (one each for Earth, Air, Fire and Water)
and of the Main lecture room (during a break) and of our session room with it's beautiful painting.
(The beat-up briefcase on the table is mine).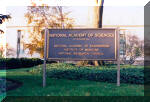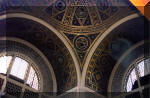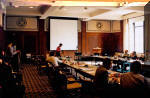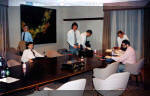 A Foucault pendulum hangs directly beneath the apex of the dome and can be seen in the background
just to the left of my head in the last photo. It swung silently while we ate, keeping track of
the earth's rotation... and providing a singular ambiance to a memorable meal.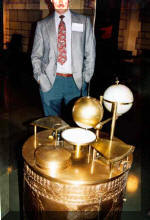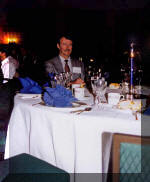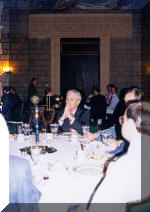 Foucault pendulum. Al and me at the Banquet.


Click (here) to return to Index page